BARD THEATRE AUDIENCE INPUT!
A Bright New Boise, by Samuel D. Hunter

Schutte notes: We produced this play (one of the first in the country) in 2011, and I can safely say it's my favorite play of the last 30 years...and began a relationship with Sam and his work that has seen us continue to do his new plays even as he goes big-time as a MacArthur "Genius" Fellow.

In the bleak, corporate break room of a craft store in Idaho, someone is summoning The Rapture. Will, who has fled his rural hometown after a scandal at his Evangelical church, comes to the Hobby Lobby, not only for employment, but also to rekindle a relationship with Alex, his brooding teenage son, whom he gave up for adoption several years ago. Alex works there along with Leroy, his adopted brother and protector, and Anna, a hapless young woman who reads bland fiction but hopes for dramatic endings. As their manager, foul-mouthed Pauline, tries ceaselessly to find order in the chaos of small business, these lost souls of the Hobby Lobby confront an unyielding world through the beige-tinted impossibility of modern faith.Samuel D. Hunter's A Bright New Boise is a earnest comedy about the meager profits of modern faith.

"This clear-eyed comedy will lift your heart." --Time Out New York


---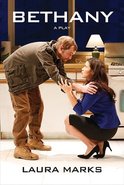 Bethany, by Laura Marks

Schutte note: From first read, this much was clear...Ms. Marks is a playwright of whom to take note. Her work is crisp, clear, and touches you. It doesn't hurt that she's a KY native!

Comedy/Drama: At the height of the foreclosure crisis, single mother Crystal loses more than her house. She struggles to stay positive, though—with plenty of help from a roommate with conspiracy theories, a motivational speaker with a secret and her colleagues at the local Saturn dealership. But optimism is no match for a bad economy, and before long Crystal's desperate quest to regain what she's lost turns into the fight of her life. This darkly comic thriller explores just how far we'll go to get back what's ours.

"…with a supremely balanced sense of storytelling and an economic gift for language, [Marks] announces herself here as a real talent to watch." —The New Yorker.
"…rare among new American plays in the clear, compassionate attention it pays…Ms. Marks' disturbing, incisive drama suggests that the bruising exigencies of our depressed economy are scraping away at the surface civilities of American life." —NY Times.

---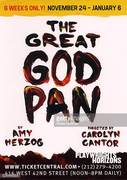 The Great God Pan, by Amy Herzog

Schutte notes: Amy Herzog is someone whose work we've wanted to showcase here for quite some time, and this play has been on our short list the past 3 seasons. Complex, and at times difficult, this play will stay with you.

Drama: Jamie's life in Brooklyn seems just fine: a beautiful girlfriend, a budding journalism career, and parents who live just far enough away. But when a possible childhood trauma comes to light, lives are thrown into a tailspin. Unsettling and deeply compassionate, THE GREAT GOD PAN tells the intimate tale of what is lost and won when a hidden truth is unloosed into the world.

"Haunting, deeply affecting, and unfailingly honest. Amy Herzog is one of the bright theatrical lights of her generation. She writes with a keen sensitivity to the complex weave of feelings embedded in all human relations. THE GREAT GOD PAN is not something I'll soon forget." —NY Times.

---