Doug Schutte, Executive Artistic Director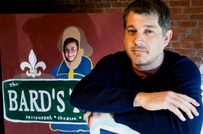 Schutte (he really doesn't like the name Doug) has worked in theatre most of his adult life as a writer first-and-foremost, and also as a director, actor, and designer. Most recently, he served as Executive Director of the Kentucky Theatre Association, during which time he honored with a City of Louisville Ambassador Award, and a Recovery Grant Award via the KY Arts Council. Schutte's most beloved theatre experience is a tie between his time spent as a Treadwell Fellow at Shakespeare's Globe in London (where his love of theatre was reawakened) and all of his time as a writer spent with wonderfully unpredictable characters.
Coming from a football background to the theatre world (why yes, it is an odd combination), Schutte focuses mainly on movement as the foundation of both character creation and play production. Utilizing Laban's "Efforts" and the Elements and Archetypes bestowed upon his by The Globe's incredible Master of Movement Glynn MacDonald, and combining these with his own "T.A.G" methodology of line interpretation linked with movement, Schutte simply loves delving into the creative process. This particular venture is particularly appealing to Schutte because, as he puts it, he "loves reading plays"...and with a theatre that produces new work, that is a full-time endeavor.

Schutte has been featured as a cover story for both LEO Weekly and The Courier Journal, as well as featured in Louisville Magazine Front Pages.



Schutte sets the plays for each season, cast the shows, and produces the plays...(we run a small ship). In addition, he loves acting, directing, and writing...as seen below:



Schutte's directing credits with Bard Theatre include A Bright New Boise, Rapture Blister Burn, Reasons to Be Pretty, The Curious Case of the Watson Intelligence, The Kings of Christmas, Greater Tuna, Bethany, and All the Answers. He's also serves as Festival Director for each of the Ten-Tucky Festivals.

Acting credits include Chasing Ophelia, The Kings of Christmas, Misses Strata, Just Like Life, Love Religiously, A Bright New Boise, Rapture Blister Burn, 44 Plays for 44 Presidents, Reasons to Be Pretty, Bethany, All the Answers, Nightstalker & Canary.

His writing credits include produced full-length plays Chasing Ophelia, The Kings of Christmas, Misses Strata, Just Like Life, and his produced short plays include Love Religiously, Stained Glass, Whistler's Mother, and The Ward of the Wings.
---