The Plays of Doug Schutte


In addition to serving as Artistic Director of Bard Theatre, Doug Schutte also currently serves as Playwright-in-Residence. The plays listed below have all been produced by Bard Theatre (some as world premieres), with many receiving 2nd and 3rd productions elsewhere. (For Schutte plays that have premiered/played elsewhere, please contact Schutte or his current representation).
Schutte moved from writing for the screen to writing for the stage while working at Shakespeare's Globe in London. Since that point, re-infused with a love for the stage, Schutte has been writing almost exclusively for live theatre, save the occasional magazine article, political ad, or web series.

NOTE FROM THE PLAYWRIGHT: When listing cast requirements for the plays below, I provide the casting utilized for main-stage productions at Bard Theatre. These are by no means "requirements." I love the characters (and words) I have created, so much so that I have no interest in placing them in a corner. Unless otherwise noted, casting can be whatever works for you and your company. Want to produce CHASING OPHELIA with an all-female cast? That sounds wonderful. Want to produce THE KINGS OF CHRISTMAS solely with an African-American cast, or all senior citizens, or even zero actor doubling? PLEASE DO..

To inquire about any of Schutte's plays, email him at doug@thebardstown.com
---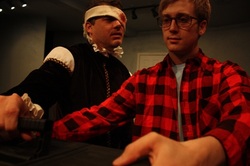 Chasing Ophelia
Comedy; 5 M, 1 F (up to 23 actors may be used); Run time 1 hour, 40 minutes.
Newly-formed character Ned Mark finds love, loses love, and chases after love...and--traveling through the A Midsummer Night's Dream, Romeo and Juliet, Macbeth, and Hamlet (to name a few)--throws the character world of William Shakespeare into disarray in the process. In the process, Ned begins to find his purpose.

Winner of "Best Production," LEO Awards, 2011.

Honored by National Arts Club "Playwright's First" Award.

Honorable Mention, Beverly Hills Theatre Guild.

The laugh-out-loud comedy had Arts Louisville asking, "Is identity crisis always this much fun." LEO Weekly called it a "delightful comedy" that was "brisk, tightly-scripted, and confident."

Produced 2011 and 2013 at Bard Theatre.

Produced 2014 at Covington Latin HS in Covington, KY. Read quotes from the HS director and students here.


Produced again in 2015 with KY Shakespeare Festival. KY Shakes' Artistic Director Matt Wallace, on the play: "

We had great success with this delightful play by Doug Schutte. Our audiences loved it and came back for more of this hilarious, clever and sweet comedy. It's wonderful mix of romantic comedy, farce, drama and the absurd."

2 script options available: the original (Bard Theatre) version, and the more family-friendly version (roughly 7-8 curse words removed) used at high school productions and KY Shakespeare.
---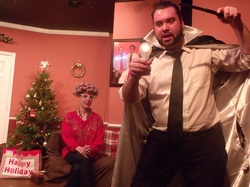 The Kings of Christmas
Holiday Comedy
; 4 M, 2 F; Run time 1 hr, 42 minutes.
10 years after the death (or disappearance) of his Elvis-impersonating magician father, Carter King reluctantly returns home for his family's Christmas to find more craziness than ever. With the help of the crazy family, the family cat, and a surprise visit from "The King," Carter regains his Christmas spirit.

"It's like 'A Christmas Carol,'...if Dickens were an idiot." --Schutte
"The madcap opening moments of "Kings" are flat-out brilliant – and the rest of the play lives up to the opening. This is among the best-written, best-executed riffs on Dickens' "A Christmas Carol" you'll ever see. In fact, a word to the wise: stop reading for a moment and immediately order your tickets. This is the fourth season of "Kings," and as with the Louisville Ballet's "Nutcracker" and ATL's "A Christmas Carol," tickets are a hot commodity. "King's" has become a holiday tradition for many Louisville theater-goers. Groups file in together and fill entire rows in the intimate performance space. After a packed Sunday night performance, I overheard a chorus of folks saying: "We'll do it again next year." - LEO Weekly (Read full review here)
Produced at Bard Theatre 2011, 2012, 2013, 2014, 2015,2016 and 2017.. (Each season has required more seats and more dates added).

2 script options available: the original, and a 2nd with the half dozen curse words edited out.

---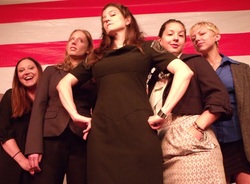 Misses Strata
Comedy; 3 M, 5 F (up to 10 actors may be used); Run time 1 hr, 39 minutes.
Aristophanes' Lysistrata finds herself in modern-day Washington DC, with a new name (Misses Strata), but the same old goal: to get men to stop being so insanely stupid. In this case, she might have the most difficult task of all: to get Congress to actually accomplish something. Mitch and Boehner, Georgie Boy and Dick, and President Willie may have something to say about that, however.

"The genius of Schutte's script lies in its equal-opportunity offense" - WFPL

A script that "allows the audience to enjoy every laugh without reserve." -Arts Louisville




Produced at Bard Theatre 2012 and 2016. (Updated for 2016)



---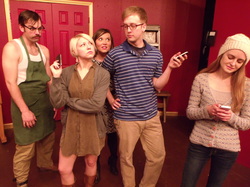 Just Like Life
Comedy; 4 M, 3 F (up to 9 actors may be used); Run time 1 hr, 29 minutes.
It's 1992. Work-averse and father-to-be Richard Van Winkle sneaks off the find a napping spot free from the ire of his wife. When he wakes up, it's 2012, and Richard Van Winkle tries to make his way in a Facebook and Twitter world. How can we possibly connect in a world where we're constantly connected?

"The rapid-fire, machine-gun pace of the script, with its choppy scene construction, reflects the miniscule attention span of a generation raised with the comfort of electronic devices, and each act clocks in at approximately 40 minutes. A clever use of video commercials and screen captures of social media helps stitch the action together while simultaneously underscoring the intentionally disjointed quality of the script." - Arts Louisville




Produced at Bard Theatre 2014.



---