Directing Opportunities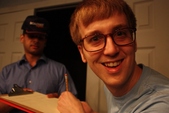 ATTENTION DIRECTORS: THE BARD'S TOWN THEATRE CURRENTLY HIRING DIRECTORS FOR 2013 SEASON.
The Bard's Town Theatre seeks directors for its 2013 season.
Directors receive a $100 stipend for their work on full-length Bard's Town Theatre productions.
Interested directors should email Doug Schutte (doug@thebardstowntheatre.org) with a resume and statement of directing philosophy.
---