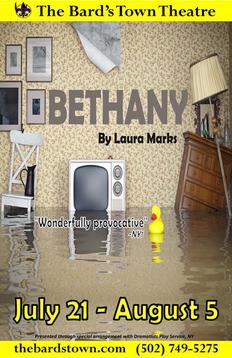 BETHANY
by Laura Marks
Directed by Doug Schutte
Featuring Katye Heim, Kenn Parks, and Carol Dines.
Bard Theatre is excited to bring to Louisville this award-winning new play by New Dramatist Playwright & Kentucky Native Laura Marks!
Nominee, Lucille Lortel Award for Outstanding Play
Winner, Leah Ryan Prize for Emerging Women Writers
Finalist, Susan Smith Blackburn Prize
Performances:
Friday, July 21 (7:30 PM)
Sunday, July 23 (7:30 PM) *Bard's 7-Year Anniversary!
Thursday, July 27 (7:30 PM) * Pay-What-You-Can-Night
Friday, July 28 (7:30 PM)
Saturday, July 29 (7:30 PM)
Thursday, August 3 (7:30 PM) * Pay-What-You-Can-Night
Friday, August 4 (7:30 PM)
Saturday, August 5 (7:30 PM)
Advanced Tickets $18 ($16 Seniors, $15 Students)
All Tickets at Door are $20
Pay-What-You-Can-Nights are just that. Reserve a ticket for free, and then donate what you can afford when you attend.
For our 7-year anniversary July 23, we are offer 23 tickets for $7 for the July 23 performance!
What's BETHANY about? At the height of the foreclosure crisis, single mother Crystal loses more than her house. She struggles to stay positive, though—with plenty of help from a roommate with conspiracy theories, a motivational speaker with a secret and her colleagues at the local Saturn dealership. But optimism is no match for a bad economy, and before long Crystal's desperate quest to regain what she's lost turns into the fight of her life. This darkly comic thriller explores just how far we'll go to get back what's ours.
"…with a supremely balanced sense of storytelling and an economic gift for language, [Marks] announces herself here as a real talent to watch." —The New Yorker.
"…a brisk Hobbesian thriller…Marks dances the razor's edge." —New York
Playwright Laura Marks is a native of Kentucky, now living in New York. She became the first recipient of the PEN/Laura Pels International Foundation Award for an Emerging Playwright in 2014. She's the author of BETHANY, produced off-Broadway at City Center by the Women's Project (directed by Gaye Taylor Upchurch, starring America Ferrera). BETHANY received Lucille Lortel nominations for Outstanding Play and Outstanding Lead Actress, won the Leah Ryan Prize for Emerging Women Writers, was a Susan Smith Blackburn finalist and runner-up for the Yale prize, and had its West Coast premiere at the Old Globe and German premiere at the National Theatre Mannheim. Her other plays include MINE (produced by the Gift Theatre, Chicago) and GATHER AT THE RIVER. Ms. Marks is a graduate of Juilliard's Lila Acheson Wallace playwriting program, an alumna of the Public Theater's Emerging Writers Group, and a resident playwright at New Dramatists. She's also the recipient of a Lilly Award, a Helen Merrill Award and an award from the Fellowship of Southern Writers. Television work includes THE EXORCIST and BRAINDEAD.
---