BETHANY, BY LAURA MARKS. JULY 21 - AUG 5 at the BARD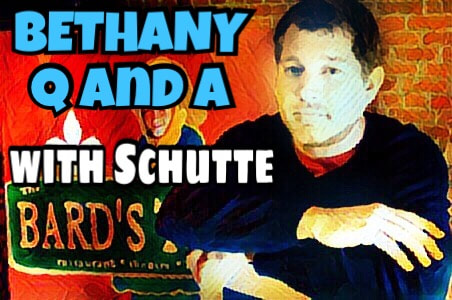 Why should I come see Bard Theatre's production of BETHANY?

One of the neat things I've gotten to witness during my time here is the development of an audience that trusts us. They know that, if we are doing a play, the play is incredible...and the production will be on point. Why have they come to trust us? We have built--and continue to build--a network of some of the best playwrights in the country. We read hundreds of new plays each year, giving us the chance to find just the right plays for the season. The plays will be crafted beautifully, give you something to think about, and often give you a laugh. You will find all of that (and then some) yet again with "Bethany." It's dark. It's smart. It's funny in so many places. And I think it will leave you with a great conversation following the play.

You should also come see "Bethany" so that you can impress at those big time cocktail parties you attend. You'll be one of the first in the country to see this play, following an Off Broadway opening in New York, followed by stints in San Diego and Chicago. Oh, and "Bethany" playwright Laura Marks is a Lexington, KY native!

How did BETHANY become part of this year's Bard Theatre season?

For me, reading new plays is a year-round endeavor…and luckily for me, a pastime I enjoy thoroughly. In my head, the seasons come together organically, and I simply pick "the best ones" for that year. It's been a true epiphany for me to discover how my journey on life's path shapes the Bard Theatre seasons. "Bethany" is a prime example. I have always had a soft spot for children, enjoyed being an uncle, a director, coach, and so on. When my brother passed almost 2 years ago now, my path took some twists and turns—getting to be one of the first to hold my brother's newborn twins, getting the honor of taking my oldest niece to Daddy-Daughter events. I enjoyed being an uncle, but I was never NEEDED because the kids had such great parents. Now? If I am with them until noon, I am depressed the rest of the day because I am no longer with them.

I mention all of that because, while there were a number of plays that (like "Bethany") were skillfully written and exciting to produce,
"Bethany" resonated more with me this year than it ever could have 2 or 3 years ago and rose above the rest. When we find titular 5-year old character Bethany potentially in harm's way, we get hooked...and I got hooked thinking about the awesome kiddos in my life. So when an outstanding, award-winning new play written by a Kentucky native becomes possible to produce, I'm all in.

Will BETHANY remind audiences of any of the plays you've done previously at The Bard?

Laura's play is going to be a unique experience. That much is certain in my mind. So I doubt our audience members will leave comparing it to anything else. For myself, it has reminded me a bit of one of my favorite plays…

While they are different in so many ways, BETHANY has brought A BRIGHT NEW BOISE to mind so many times during the rehearsal process. Partly, this is because both have main characters who are parents-- parents working to get their children back. Both are tested beyond what they believe to be their limits.

Mostly, though, they're both oddly FUNNY. BETHANY is dark, thrilling, poignant. But it's also downright hilarious at times, and honest in that hilarity. Always a favorite!

A common thread for you seems to be directing plays that you are also in. How does that work?

I get that question a lot. I think a lot of it really depends on what your directing style is. If I still employed the directing style I typically used prior to working with Glynn MacDonald at the Globe, I could not, and would not, do direct and act in the same show. The way I've come to understand directing (for ME) now, though, actually lends itself to a directing and acting combination. I never have blocking rehearsals, for example. In fact, I typically ask my actors NOT to write down blocking/movement notes. If you have to look in a book to figure out if and when and where you are going to move, then I doubt that movement is justified. I doubt you've made a choice. I doubt you've reacted to the others. If I create the character honestly, though, and I know what my goals and needs are, and I know the words I am to speak and WHY I'm speaking them, and I am fully engaged with the other(s) in that moment, I'll never need to be told where to move. It becomes more of a hands-on workshop rather than a lecture. We work as a group. We focus on the other(s).

So when I am pulling double duty, I find my job of keeping the focus, giving voice to the words, and asking the right questions of my actors to often be easier because I am within the energy of the play. I fail miserably at sitting still.

You mentioned this is a regional premiere, produced only a few places prior to Bard Theatre. Where else has BETHANY been produced?

The play debuted Off-Broadway at City Center in New York, as part of the Women's Project Theatre. That original production starred America Ferrara, and—fun tidbit—Laura Marks' husband.

After the debut, BETHANY played at The Old Globe in San Diego, and the Gift Theatre in Chicago. And while I know it shouldn't matter, it thrills me to know we are the 4th theatre in the country entrusted with this play. With plays like BETHANY, A BRIGHT NEW BOISE, RAPTURE BLISTER BURN, and THE (CURIOUS CASE OF THE) WATSON INTELLIGENCE, Louisville audiences are getting to see Obie Award Winners and Pulitzer Finalists before just about anyone else in the country. That's always a nice reminder for us that we're doing some pretty cool—and pretty important—work here.



BETHANY should be a treat, as you'll get to see a wonderful play with a nice mix of Bard Ensemble members and some talented folks we are working with for the first time. Meet the whole BETHANY TEAM here.

---