AUDITIONS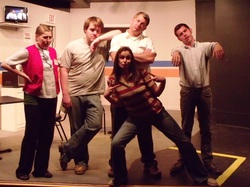 JUST ANNOUNCED!Bard Theatre will hold auditions for its 2016 season Monday, February 1 from 5:00 PM to 10 PM at The Bard's Town, 1801 Bardstown Rd, Louisville, KY 40205.
Auditions are by appointment only. Appointments can be scheduled by clicking here.
Also, please download and fill out the audition form prior to arriving. (We will have extras available, but this will save you a good amount of time), and be sure to check out the character breakdowns to get a sense of what might be a good fit for you.
Actors auditioning should be prepared to perform 1-2 monologues that highlight their talent and range (any genres will do). Please keep it to 2 minutes. Actors may also perform cold readings from particular plays from our 2016 season. Please bring 1-2 copies of your resume and photo along with your completed audition form.

A Permanent Image
*Already cast and in rehearsal.
Stupid Fucking Bird
Mash – F – (20s) Desperately in love with Con
Nina – F – (20s) With Con, loves him, but entranced by the older Trig.
Dev – M – (20s) Kind, hopeful. Unrequited love for Mash
Con – M – (20s) Passionate playwright; Deeply in love with Nina
Trig – M – (40s-60s)Literary star who is dating Con's mother Emma.
Emma – F – (40s-60s) Con's mother, hopelessly commercial successful actress
Sorn – M – (40s-60s) Emma's brother.
In a Word
Fiona – F – (30s-40s) Mother of an abducted child.
Guy – M – (30s-40s); Fiona's husband; father of an abducted child.
Man – M – (age can vary) plays multiple people: Kidnapper, Detective, Tristan (7-year old abducted boy), Principal, Andy, Client, Photographer, Officer.
This Is Not The Play
Playwright – F – (20s-40s) Black woman, having trouble with her subjects.
White Girl 1 – F – (20s-30s) White girl, "pretty in a vanilla yogurt kind of way"
White Girl 2 – F – (20s-30s) White girl, "pretty in an angry vanilla yogurt kind of way"
The Man – M – (30s-50s) White man in a suit
White Woman – F – (40s+) Worn-looking. Weary. Should look like White Girl 2's mother.
Derby City Playwrights Festival
Directors and playwrights will be working to cast the 7 shows (all full-length in rep). They will most likely be with us at auditions.
Ten-Tucky Festival
We will not know the roles for this 10-minute festival until script decisions are made in April. We'd love to have you for the fest, though.
Misses Strata
*I will be doing re-writes on this script (originally produced for the 2012 election) to incorporate some new, relevant characters. This is not a final character list:
Misses Strata – F – (30s-40s) Strong; taking on the establishment
Sarah Palin
Hillary Clinton
Laura Bush
Barack Obama
Bill Clinton
George W Bush
Dick Cheney
Donald Trump
Mitch McConnell
The Kings of Christmas
Carter King
: The middle child who is the epitome of middle children...entirely too curmudgeonly for his age. Our resident Scrooge.
Clinton King
: Youngest brother of the family. As Uncle Frank describes him..."He was named in honor of President Bill Clinton. The two shared much in common; no one knew if either Clinton was an idiot...or a genius."
Kennedy King
: Oldest brother. Balding magician trying to follow in his father's footsteps...and not pee all over himself.
Carol King
: Mother trying to keep the family together.
Uncle Frank
: The biggest idiot either side of the Mississippi. Lover of Matlock.
Wendy Williams
: Long-time neighbor of the King family. She has some tricks up her sleeve (or skirt).
Santa Claus
: Brings gifts to kids in December. You may have heard of him.
The Bard's Town Theatre is always looking for actors who bring tremendous professionalism, are easy to work with, and who share our vision about what it means to create theatre. Because our season plays are so diverse, we tend to need actors of all types.

Miss our annual auditions? The Bard's Town Theatre holds "rolling auditions," as needed, by appointment only. Interested in scheduling an audition to perform with The Bard's Town Theatre? Please send a note of introduction, resume, and head shot electronically to Executive Artistic Director Doug Schutte at doug@thebardstowntheatre.org.
---