AUDITIONS FOR GLENGARRY GLEN ROSS (DAVID MAMET)
- ALL FEMALE CAST
- Performances May 17-26

WHEN ARE AUDITIONS? Monday, March 26, and Tuesday, March 27

WHERE ARE AUDITIONS? The Bard's Town, 1801 Bardstown Rd, Louisville, KY 40205

HOW TO I SIGN UP FOR AN AUDITION SLOT? CLICK THE BLUE BUTTON ABOVE THAT READS "RESERVE AUDITION SLOT." audition slots are listed on the landing page once you clicK. 4 slots are available for each 30-minute period. IN ADDITION TO CHOOSING YOUR TIME SLOT, YOU WILL ALSO BE ASKED QUESTIONS ABOUT AVAILABILITY and such. please be as honest and thorough as you can be. LASTLY, PLEASE ARRIVE 15 MINUTES PRIOR TO YOUR SCHEDULE TIME.

DO I NEED TO PREPARE ANYTHING? no monologues needed. we will be doing readings from the play. you will receive a note linking you to the page where you can view/print the sides.

DO I NEED TO SEND OR BRING ANYTHING? We need a resume and photo From you. We love to go green whenever we can, so we prefer you send those items to us at audition@thebardstowntheatre.org. IF YOU DO NOT MAIL THE ITEMS, PLEASE bring 3 printed copies OF YOUR RESUME AND PHOTO to the audition.

DO YOU HAVE ADDITIONAL QUESTIONS OR CONCERNS? EMAIL ARTISTIC DIRECTOR DOUG SCHUTTE

THE PLAY'S CHARACTERS (CLICK HERE)

AUDITION SIDES (AVAILABLE 3/25)




GENERAL AUDITION INFO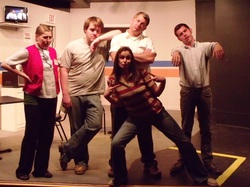 Bard Theatre is always looking for actors who exude professionalism and joy, and thus help contribute to the positive atmosphere we try to ensure every season, every production, every day. We love to find new artists who share our vision about what it means to create theatre (and the importance of our commitment to providing a platform for new voices). Because our season plays are often quite diverse, and because we often employ non-traditional casting whenever we can, we tend to need actors of all types.

Our seasons run the course of the calendar year, with our first season production typically in late February, and our "The Kings of Christmas" closing out our season each December. Each year, we attempt to hold a general season audition, and then hold auditions for individual shows as needed.

WHAT YOU CAN EXPECT FROM US:
Whether auditioning, rehearsing, or performing, you will work in a professional atmosphere.

Unless we are paying you union wages or above, WE will work around your schedule when creating our rehearsal schedule...not the other way around.
We believe you should be paid. We realize that what we can afford to pay you doesn't come close to your worth, but you shouldn't have to do this for free. Our stipends vary based on size of cast and crew; on average, you can expect to receive between $100 and $150.



The Bard's Town Theatre holds "rolling auditions," as needed, by appointment only. Interested in scheduling an audition to perform with The Bard's Town Theatre? Please send a note of introduction, resume, and head shot electronically to Executive Artistic Director Doug Schutte at doug@thebardstowntheatre.org.
---